Name: Geordon Maxwells (George)
Gender:Female
Age: 15
Description(eyes, hair, height, body..ex: muscular, skinny, fat, skin tone):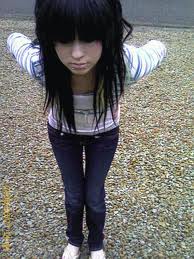 5"2,
Country/State of Origin: United States
Parents: Lea and Andrew Maxwells
Former: 5th
Flaws*: Is afraid of guys, has bad memory, very bipolar, afraid to be touched but men, gets scared of loud noises, afraid of anything like a rat/mouse/bat/chipmunk and all.... and she blushes alottttttttttttttt
Talents/Skills: Run really fast
Affinity: Air
Pets: A little kitten named Wiskey
Biography**: Geordon never thought anything happy. Her father, two step brothers and step mother all liked to be mean to her. They hurt her physically and emotionaly. She was a lesbian and everyone knew it. When she was 7 she started cutting and stuff. She had other type problems. When George was 10 a tracker came and marked her. She then headed to the House of Night.
RP Example**: I walked around the courtyard, very bored. "There's the lebo." I heard some people said. I heard that and fell to the grown crying. I layed there for about an hour, the crawled to my cabin. I layed on my bunk for awhile, then heard a noise. I sceamed and fainted.
Notes: I was permitted my Demi/DV/Adren/Raibow/other namesss.... To have an affinity